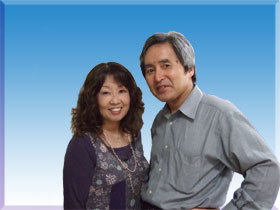 I was born and educated in Ibaraki Prefecture
As a student at Ishioka Daichi, I most enjoyed English, science, and mathematics, as well as wrestling. I joined the wrestling club and managed to win 4th place in a prefecture-level tournament during my 2nd year of high school.
Winter of the previous year, I had been invited by my senior to a students' gathering at church. It was my first time attending a church and meeting a pastor, who said, "If you don't have an encounter with the Creator who gave you life, you won't truly know the meaning of life." Struck by those words, I wanted to know if God really existed.
I decided to put my faith in Jesus Christ as my Savior at a Bible camp the following summer.
As a college student, my desires were to serve society as a Christian, particularly in agricultural development abroad. With that in mind, I joined the agricultural department of Ibaraki University. In my 3rd year, I went to America for 6 months to study English. There, I had the opportunity to travel around America by bus and do home-stays with many American families.
I studied in Christian universities in Atlanta, Tennessee, and Vancouver. When the time came to fly back to Japan, I hoped I would return to America some day to study at a Christian university. Meanwhile, I worked hard at my studies and part-time job, and graduated from Ibaraki University.
After which, I joined Southwest Bible College's Seattle campus and took foundational classes in the Old and New Testament for a year. When I returned to Japan, I taught English at a private eikaiwa (English conversation school) as well as math at a cram school, gaining some experience as a working adult. I was then led to a Covenant-affiliated seminary, where I studied Greek and Hebrew.
While in seminary, I joined a Bach choir which performed in church. It was a dream come true to sing tenor solos for "Messiah." Not only that; at church, I also met my future wife.
Upon completing seminary, I desired to train as a pastor. While working as a staff member of Life Ministries' "Nihon Kyoukai Seichou Kenkyuujou," I started a church called IBF (International Bible Fellowship). Currently, IBF has 3 services per week (one on Friday, two on Sunday). While serving as pastor there, I also work with missionaries in the wedding ministry; we conduct weddings in many hotels and wedding halls.
Hobbies: I love playing golf, especially with fellow Christians, and skiing.